Introducing the Clockedin SmartHub-FT
Facial recognition and temperature measurement terminal
The ClockedIn SmartHub-FT is an Android operating Facial Recognition device with thermal temperature recording technology. The facial sensor has a quick matching speed, high resolution, and can be operated touchless. Using Infrared technology, an abnormal temperature can be identified immediately.
– Contactless and Secure Access, prevent unauthorised persons entering a site. All identification can be done without physical interaction.
– Abnormal Temperature Identification, reduce the risk of un-well employees entering a site with their temperature being identified upon Clocking In.
– Swipe & Go function which allows a quick and contactless sign in to work.
Features
 Android 7.1 operating system
• Infrared Thermography Testing – Error range ±0.3°C
• Binocular Liveness Detection – Recognition rate > 99.5%
• Front Dual-lens Camera (RGB+IR), 2MP+1.3MP
• Communications- Ethernet/WiFi/Bluetooth LTE/GPRS
• NFC Card Reader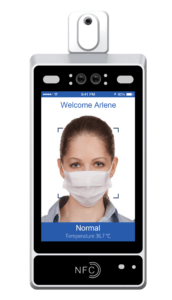 The health of an employee should be highly considered by all businesses, the introduction of the ClockedIn SmartHub-FT will significantly reduce the risk of illness in a workplace. Upon an employee clocking into their shift, an infrared sensor will take an employee's forehead temperature within seconds. If their temperature is abnormal or above the set parameters an alert will display on the screen. In turn this prevents access to the individual who could be un-well. A manager can recommend that the employee must return home or visiting a doctor. Furthermore, the SmartHub-FT can be used with minimal contact, reducing risk of spreading illness by touching the screen. All identification/verification is done using the camera and thermal and infrared sensor.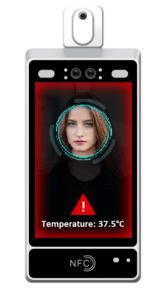 Part of the ClockedIn family since: 2017
Favourite quote: "Winners use words that say 'must' and 'will'."